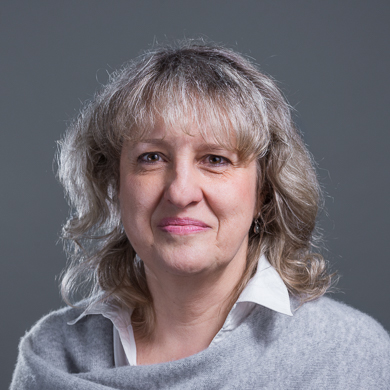 HEAD OF DEPARTMENT
prof. Dr.Ing. Drahomíra Pavelková
Department of Finance and Accounting
E-mail:
pavelkova@utb.cz
Mobile: +420 734 286 015
TEL: +420 576 032 401
Office:
U2/401
Author identifiers
Drahomira Pavelkova is working as a full professor at Tomas Bata University in Zlin, Faculty of Management and Economics in the Czech Republic. She is a head of the Department of Finance and Accounting. Her areas of professional work and interest cover strategic management, clusters, performance management and measurement, corporate finance, corporate valuation and benchmarking. She presents research results at national and international conferences and she has published as author or co-author 10 monographs, 5 book chapters, 33 articles in domestic and foreign scientific and professional journals and 2 certified methodologies. She has managed 12 research projects and she cooperates closely with companies, cluster organisations and Ministry of Industry and Trade.
---
Teaching
Consulting hours
Wednesday 2pm-4pm
---
Curriculum vitae
Education
1982 – 1987: Slovak University of Technology in Bratislava, Faculty of Chemical Technology, Bratislava, Slovak Republic
Ing., Economics and Management of Chemical and Food Industry.
1994 – 1998: Brno University of Technology, Faculty of Business and Management, Brno, Czech Republic
Ph.D., Economics and Business Management, 1998
Thesis Topic: Long-term Financing and the Firm Market Value
2002: Technical University of Liberec, Faculty of Economics, Liberec, Czech Republic
Assoc. Prof., Business Economics and Management, 2002
Topic: The Role of Cost of Capital in Financial Management
2009: Tomas Bata University in Zlín, Zlín, Czech Republic
Prof., Management and Economics. Appointed by the President of the Czech Republic in April 30, 2010
Internships and study stays
Yokohama National University, Japan (June-August 1985)
Copenhagen Business School, Denmark (April 1993)
E.A.P. Oxford, United Kingdom (July-August 1993; September 1996; July 1997)
Chalmers University of Technology Göteborg, Sweden (January 1995; November 1995)
Göteborg University, Sweden (November 1995)
Katholieke Hogeschool Zui-West-Vlaanderen, Belgium (September 1998)
Luton Business School, Luton, United Kingdom (October 1999, September 2000)
University of Huddersfield, United Kingdom (April 2000)
Universidade Nova de Lisboa, Portugal (February 2001)
Pohjois – Savo Polytechnic, Varkaus, Finland (March 2001)
Chapman University, George L. Argyros School of Business and Economics, Orange, California, USA (May 2006)
New York University, USA (January-February 2006, April 2008, November 2013)
TDTU, Ho-Chi-Minh, Vietnam (June 2014, November 2015, June 2016, November 2016, September 2017)
Harvard Business School, Boston, USA (December 2008, December 2014)
Process of employment
2010 – present: Tomas Bata University in Zlín, Faculty of Management and Economics (FaME), professor
2002 - 2010: Tomas Bata University in Zlín, FaME, associated professor
2001- 2002: Tomas Bata University in Zlín, senior lecturer
1992 – 2000: Brno University of Technology, FaME in Zlín, senior lecturer
1988 –1992: University of Economics in Bratislava, Department of Science and Technology Development, lecturer
Institutional Service:
FaME: Member of Academic Senate (1995-1998)
FaME: Head of Department of Management (1997-2000)
FaME: Head of Department of Finance and Accounting (2001-2002, 2004 – 2012, from 2016 until now)
FaME: Vice-Dean for Part-Time Studies and Lifelong Learning (2002-2004)
TBU: Vice-Rector for Research and Development (2004-2007)
FaME: Dean of the Faculty of Management and Economics (2008-2015)
Member of the Council of the Centre for Applied Economic Research, Faculty of Management and Economics, TBU in Zlín (2007-2015)
TBU: Vice-Rector of TBU for pedagogical affairs (2016-2017)
TBU – member of Scientific Board (since 2004)
TBU, Faculty of Management and Economics – member of Scientific Board (since 2002)
Tomas Bata University in Zlin, Faculty of Multimedia Communication – member of Scientific Board (since 2017)
Tomas Bata University in Zlin, Faculty of Humanities - – member of Scientific Board (2007-2015)
Tomas Bata University in Zlin, Faculty of Management and Economics – member of Board for PhD Study Programme Management and Economics
Tomas Bata University in Zlin, Faculty of Management and Economics – member of Board for PhD Study Programme Finance
Membership of expert organizations
The Competitiveness Institute
Czech Association for Financial Management
Membership of bodies
Member of 5 Scientific Boards
Member of 7 Boards for PhD Programs
Editorial Board and reviewer - Ekonomický časopis/Journal of Economics (WoS, JIF)
Scientific Board and reviewer - E+M/Economy and Management (WoS, JIF)
Editorial Board and reviewer - Journal of Competitiveness (WoS)
Editorial Board - Trendy ekonomiky a managementu/Trends of Economics and Management
Editorial Board - Sociálno-ekonomická revue/Social and Economic Revue
Member of the Expert Council in Czech Association for Financial Management (CAFIN)
Member of the Academic Assembly of the Academy of Sciences of the Czech Republic
Member of Horizon 2020 Advisory Group, Directorate - General for Research&Innovation
Member of Evaluation Committee of National Accreditation Office
---
Creative activities
Publications
Project outputs