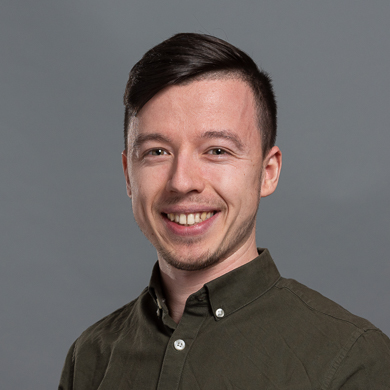 Odborný asistent
Ing. Lukáš Danko, Ph.D.
Department of Regional Development, Public Sector Administration and Law
Působí jako odborný asistent na Ústavu regionálního rozvoje, veřejné správy a práva na Fakultě managementu a ekonomiky, která je součástí Univerzity Tomáše Bati ve Zlíně. Garantuje výuku předmětů Ekonomická geografie, Regionální analýza 1 a Financování veřejného sektoru. Podílel se na projektech mapování kulturních a kreativních průmyslů ČR a přípravě strategických a koncepčních dokumentů pro oblast veřejné správy. Momentálně je řešitelem projektu COST, se zaměřením na New Working Spaces (NWS). Jeho výzkumné zájmy jsou orientovány na kreativní ekonomiku, new working spaces a problematiku veřejných politik, s využitím kvantitativních (zejména ESDA) a kvalitativních metod.
---
Teaching
Consulting hours
Uterý 14.00 -16.00 hod. Dále možná dohoda termínu email/mobil.
---
Curriculum vitae
Education
2012–2017, UTB FaME Zlín, doktorské studium, obor Management a ekonomika, Ph.D.
2010–2012, UTB FaME Zlín, navazující magisterské studium, obor Veřejná správa a regionální rozvoj, Ing.
2007–2010, Trenčianska Univerzita Alexanda Dubčeka v Trenčíne, bakalářské studium, obor Regionální rozvoj, Bc.
Internships and study stays
2018-2019: Vienna University of Economics and Business, Rakousko, research mobility programme
2016: Vienna University of Economics and Business, Rakousko, dlouhodobá stáž, program AKTION ČR-AT
2015: Vienna University of Economics and Business, Rakousko, krátkodobá stáž, OPVK
2009: Šiauliai University, Litva, program ERASMUS
Process of employment
2017–dosud: UTB FaME Zlín, asistent/odborný asistent
2017–dosud: UTB FaME Zlín, projektový manažer
2014–2015: UTB FaME Zlín, Centrum aplikovaného ekonomického výzkumu, projektový manažer
Membership of expert organizations
Česká geografická společnost
---
Creative activities
Publications
Project outputs