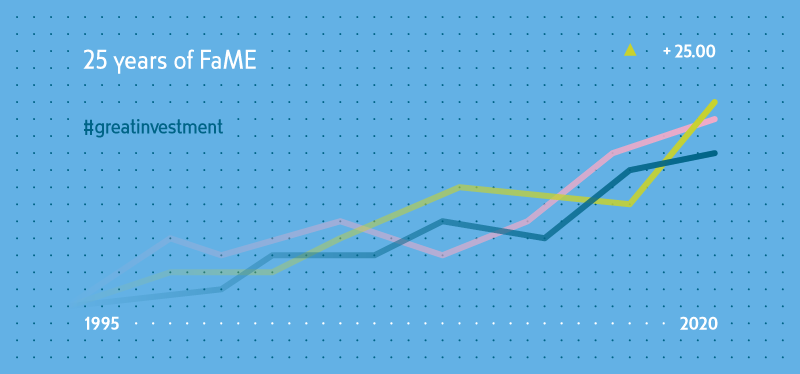 Celebrations of the 25th anniversary of FaME!
Yes, 25 years old! Our faculty, our FaME, celebrates its quarter century this year!
We are proud to state that we have managed to develop a strong and respected "international company" out of a "start-up and subsidiary company". We are in the black, not having lack of clients from all over the world and the B2B sector is in a very good shape. For some time, we have been the best faculty of economics in the Czech Republic according to The World University Rankings. Wow!
FaME is simply #greatinvestment💙
Enough of boasting! We will keep our feet on the ground.  We never forget anyone who has passed through the door of our faculty and contributed to the current state of the faculty.
Therefore, we are preparing several events (under favourable epidemiologic conditions only, of course), by which we will commemorate the 25th anniversary of our establishment. The first ones to take place will be on Friday 18 September 2020 – Opening Ceremony in the Congress Centre Zlín and the afternoon/evening Alumni Meeting right at FaME.
Alumni Meeting
All the alumni, former and present teachers, employees and collaborators of FaME are more than welcome to be part of our meeting on Friday 18 September 2020 from 14:00 to 24:00 right at our faculty.
REGISTRATION: hajdova@utb.cz
What can you expect? We are getting ready a special programme in the premises of the faculty and the surroundings, during which we will introduce a modern concept of FaME. Still, be ready for a decent amount of nostalgia and memories. Good-quality music, chill-out zones, refreshments or our FaME shop cannot be missing. We look forward to seeing you in September!
More information about other events will be revealed later.
Stay tuned and follow us at Facebook and Instagram 🙂